When you think of something that is "hand made", you will probably expect it to be of higher than normal quality, with special attention being paid to the smallest of details. You'll expect it to be unique, one of a kind and tailored to your individual requirements. You, as the customer, will expect to be able to have real input into what the final product will be like. You might also expect to pay more for a hand crafted item than one that's "off the shelf".
At Flipside, we hand craft websites to our clients' individual needs, ensuring that you have a fully functional, easy to use website which, most importantly, performs the task it is intended for.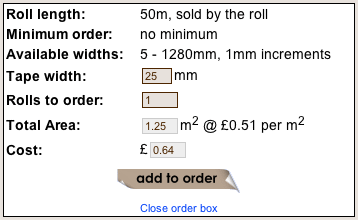 The example on the right is from an industrial sticky-tape company whose needs for adding items to the basket on their e-commerce website is rather different to the norm. Here, the customer can specify the width of the tape and the number of rolls. They can see how it's sold and get live feedback of the total coverage and cost.